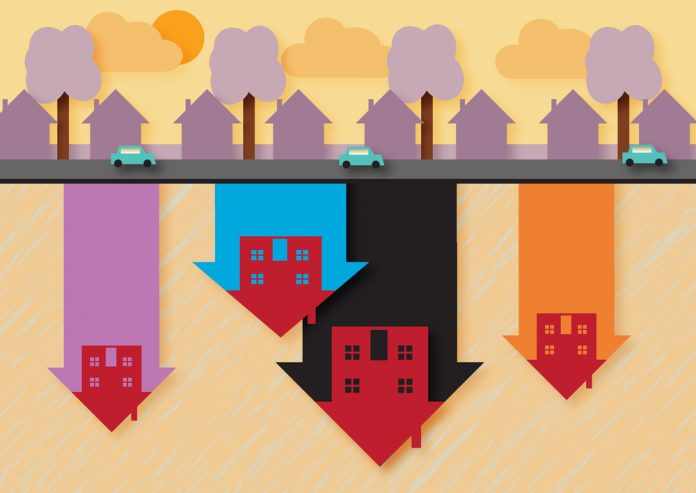 On Monday, The Centre for Economics and Business Research (CEBR) predicted that UK house prices could fall by as much as 13.8% in 2021.
This, according to financial services provider, Bankrate, will come as the economic impacts of coronavirus come to full fruition in the new-year. Also, having temporarily kicked the property market grey cloud – and ensuing market stagnation – into the long grass, the government's enticing stamp duty holiday will come to an end at the beginning of 2021, and will thus focus short-term demand within the remaining months of the current year.
With the absence of a stamp duty treat, a recession, and banks being increasingly sparing with their mortgage approvals, the glum predictions of the CEBR may prove to have some credence. And while some might celebrate a potential bubble burst in over-inflated areas such as London, recent buyers are at risk of slipping into negative equity – with homes no longer worth the mortgage they're still paying off.
Speaking on the CEBR's predictions, Bankrate Mortgage Expert, Nisha Vaidya, commented:
"It was recently announced that house prices are rising at their fastest rate in 16 years, but today we're hearing predictions that prices may soon drop dramatically in the next 12 months. These reports clearly show the current unpredictability of the UK housing market, which reflects the deep uncertainty in the wider economy."
"This leaves potential buyers and sellers with a real dilemma about how to proceed. Those looking to sell and downsize their home may want to do so quickly to take advantage of the current price surge. But first time buyers may decide it's better to wait until the market settles down and prices stabilise."
"Given the current market turbulence, any potential buyers and sellers should read up on their options and carefully compare mortgage deals to help them understand the long-term implications of any decision they make."