The Homebuyer Demand Hotspots Index from GetAgent.co.uk revealed that between pent-up demand and the stamp duty holiday, UK buyer demand jumped to 51% in the third quarter, up 9% year-on-year, to the highest quarterly demand since the start of 2019.
In addition to the annual shift, the third quarter's performance also represents an 8% bounce from the previous quarter, with just one of the one hundred areas analysed in the survey seeing an annual decline during the recent quarter, and none seeing a loss of demand quarter-to-quarter.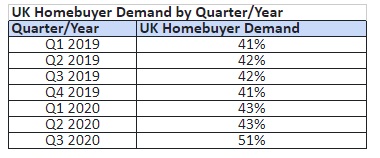 The research also showed that homebuyer demand was strongest in affordable areas, with buyers most eager in; with Falkirk 73%), Glasgow (68%), Sale (64%), Wigan (63%), Sheffield (63%), Warrington (63%), Worthing (62%), Dartford (61%), Oldham (61%) and Dundee (60%) ranking as the top 10 hottest spots at present.
Meanwhile, homebuyer demand in Dundee was also up on both a quarterly and annual basis, by 25%. Other notable rises in demand occurred in; Newport (+18%), Swansea (+18%), Falkirk (+16%), Birkenhead (+16%), Glasgow (+15%), Hastings (+14%), Darlington (+14%), Cardiff (+13%) and Middlesbrough (+13%).
Further, and behind Dundee, the other headline areas for demand growth were; Darlington (+22%), Birkenhead (+20%) and Middlesbrough (+16%) make the top 10 biggest increases again, joined by Stockton-on-Tees (+20%), St Helen's (+20%), Huddersfield (+19%), Warrington (+19%), Blackburn (+18%) and Wigan (+16%).

Speaking on the upturn in homebuyer demand, Founder of GetAgent, Colby Short, stated: "The meteoric uplift in UK homebuyer demand in the third quarter of this year demonstrates a market that has well and truly bounced back from pandemic paralysis. An 8.5% quarterly increase in buyer demand is phenomenal when you consider that the market has remained largely static since the start of 2019."
"Even following the Brexit bounce seen at the start of the year we saw an uplift of just 2% and for every single area to have seen a quarterly uplift in demand is unheard of. It's fair to say that the current stamp duty holiday in its various forms across England, Wales and Scotland has played a huge part in this revival and should continue to do so over the final quarter of 2020 at the very least."
"This is great news for home sellers who may have seen the value of their property plateau or even fall during the prolonged period of Brexit uncertainty that plagued the market over the last few years. With buyer demand now seeing a healthy increase, sold prices are likely to follow suit."