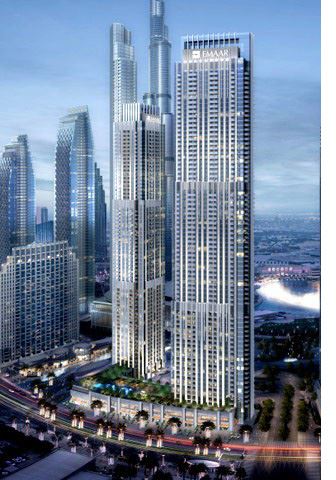 Finland-based engineering company, KONE Corporation (HEL:KNEBV), announced on Thursday it has won an order to supply 17 elevators to the luxury B4 Grande tower in Dubai.
The new 287-metre, 72-storey skyscraper is located in Opera Downtown District in Dubai, and upon completion will accommodate 882 luxury apartments as well as amenities and retails outlets on the promenade level.
The apartments will range from one to four bedrooms, as well as penthouses located on the highest floors. The developers of the B4 Grande boast that residents will have, "panoramic views over the Persian Gulf and surrounding areas".
KONE Corp's role in the tower's construction will consist of installing thirteen KONE MiniSpace elevators, three KONE MonoSpace elevators and one KONE Motala elevator, which will allow all 1,000 residents to scale the B4 Grande. The company added that the building will also be equipped with the company's Infotainment screen and E-Link, which it describes as a facility management tool designed to secure the 'best possible tenant service quality in the building'.
Speaking on the announcement, the company's Executive Vice President for South Europe, Middle East and Africa, Pierre Liautaud, commented: "We are proud to deliver our people flow solutions to this new high-end property. Working together with our customers, we want to help them create a first-class user experience and exceed residents' expectations for B4 Grande".
The B4 Grande skyscraper is being developed by Emaar Properties (EMAAR:DFM), and is expected to be completed during 2022. The primary contractor for the project is China State Construction (HKG:3311), with architectural services being provided by WSP (TSE:WSP).